Why Choose Benchmark Homes
Benchmark is the best way to get the home you want in the neighborhood you love.
We know what you want – new living, with all the latest conveniences.
But most of our customers also want to live in an established community — in a neighborhood that feels like home — with a beautiful home that belongs there.
When shopping for builders you will find we are not the most expensive or the least expensive builder in town, however we guarantee to provide the most value for the price. We will not compromise on products or our standards to offer the lowest price custom home. Through design, we are very good at finding ways to save money that will not sacrifice the integrity, design, and structure of your NEW custom home. We also believe in spending money in areas where it counts and is the most impactful. We focus on the small details of a new home to make each and every home we build unique and loaded with character.
Our whole company philosophy is building that Team-Approach with our clients and the architect together.  We don't see our clients sitting on the other side of the negotiating table. We see you as part of one team on the SAME side of the table all working together in designing and guiding you to achieve YOUR personal design and specifications while hitting that target budget YOU are comfortable with. We are good at getting there by using our combined 100 years of employee experience in this field.  During these design meetings, we are providing estimated costs and savings for all our collective ideas to help you make design decisions.  
Open Communication and Customer Involvement
We have an established communication process from beginning to end and will always keep you informed and involved in the entire process. After your floor plan is complete, we will have a final plan approval meeting, and review in detail our start sheet with all the specifications of materials and products to go in your home. As we get closer to breaking ground, we will have allowance selection meetings, and schedule a site-walk prior to construction to set proper expectations on the build. During construction we send our customers weekly updates to address questions, concerns. At the framing stage we have an electrical walk-through with our customers to confirm and mark any additional electrical and lighting outlets that might be added as desired. Finally we have a completion walk-through prior to closing on your new home. Keep in mind if you build with BenchMark Homes, you will receive weekly progress reports from our team starting from day one and through the entire process so that you are never left in the dark while we are working behind the scenes.
Homes In Harmony With Established Neighborhoods
Whether we are building a custom home or one of our own designs, we don't build cookie-cutter homes.
Our experience building many different styles of homes means that we know how to build any kind of home you want– one that will blend into the neighborhood you love, but won't look exactly like any other house on the block. In eclectic neighborhoods, we are sensitive to what will look good and harmonize nicely with the area.
Experience & Expert Advice
We place a high value on continuing education, and making use of the resources available through the Home Builder's Association. This keeps us aware of the latest techniques and products.
Plus, we've been personally involved in the building of so many homes, we've acquired a depth of knowledge and understanding about many different procedures and products. If we don't already know about it, we search it out and find the thing that will supply your need.
We Know St. Louis Communities
Through 28+ years of business and the completion of over 100 homes, Benchmark Homes has cultivated a great working relationship with some of the best communities, or neighborhoods, in the area.
We have connections with some of the area's most successful realtors.
We know when properties are becoming available, and we know how to keep your project running smoothly through city red tape from beginning to end.
We Know Current Trends & Latest Designs
We take pride in keeping up with what's new, what's coming, and what will be your best investment right now.
If it's current, chances are we've already built something like it, and have done our homework to give you the best result.
The HBA Homer Awards are the "Oscars" of the St. Louis Homebuilding Community. It is an annual local competition to recognize design, workmanship, and value in residential construction projects throughout the St. Louis area.
The HBA Ultimate Homes Tour offers the community a chance to see more than 100 of the area's finest new homes for free. The People's Choice Awards winners are chosen by consumers who voted online for their favorite home in a specific price range and county.
Our focus on creating homes that are beautiful, and employ excellent craftsmanship and the latest features, have consistently pleased customers and award judges. Benchmark Homes has won nine Homer Awards and two People's Choice Awards.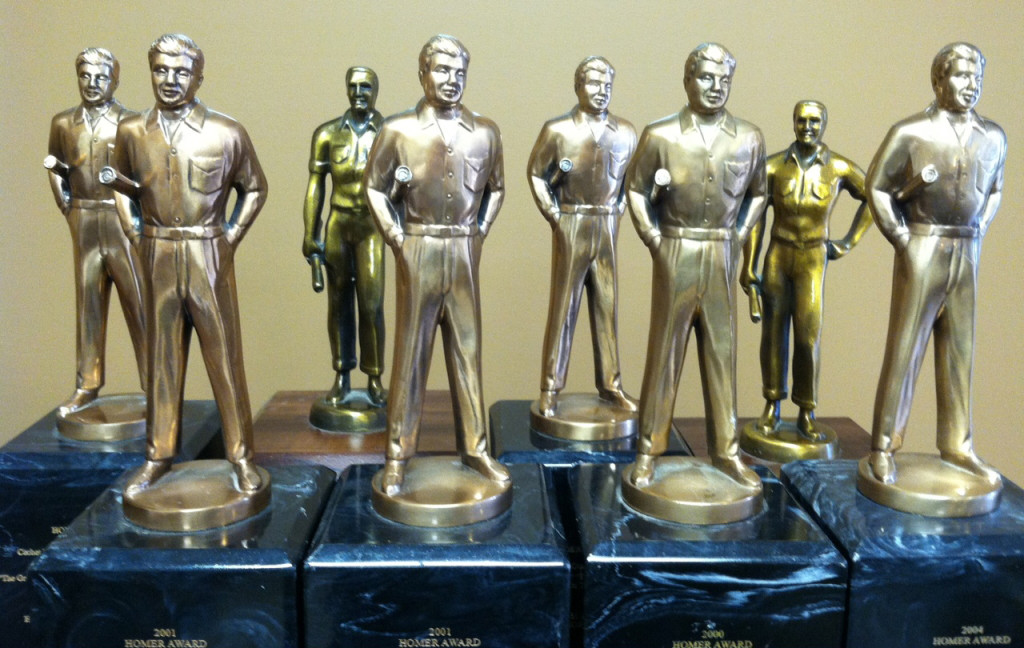 Deep Experience Building In Established St. Louis Neighborhoods
This map shows the many locations where we've built homes in the St. Louis area.  Many of the markers represent developments with multiple unique homes.
We have the experience building one-of-a-kind-homes in many of the established communities customers desire.
Loading map...


Ready to Get Started?
We're excited to speak with you about your upcoming project.
Get in touch with Benchmark Homes today to start planning.